There's More to be Done: Collaborating to Better Meet Global Infrastructure Needs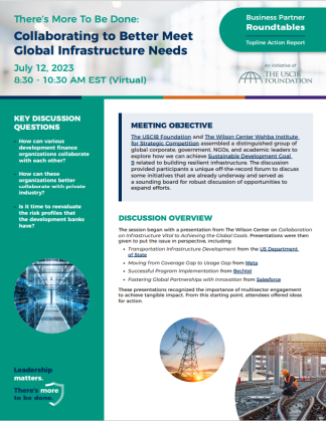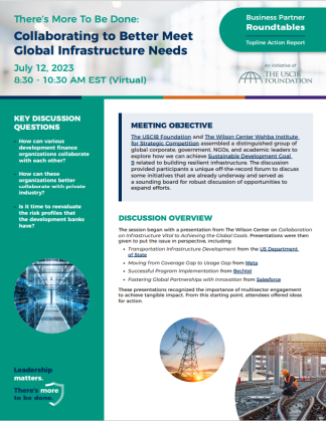 The USCIB Foundation and The Wilson Center Wahba Institute for Strategic Competition assembled a distinguished group of global corporate, government, NGOs, and academic leaders to explore how we can achieve Sustainable Development Goal 9 related to building resilient infrastructure. The discussion provided participants a unique off-the-record forum to discuss some initiatives that are already underway and served as a sounding board for robust discussion of opportunities to expand efforts.
About the Author
Mark Kennedy
Director, Wahba Institute for Strategic Competition
Hon. Mark Kennedy (US Congress, 2001-07 MN), Director of the Wilson Center's Wahba Institute for Strategic Competition, also serves as an appointed Civic Leader supporting the Secretary of the Air Force and as President Emeritus of the University of Colorado. Kennedy is dedicated to strengthening America's alliances, and the technology, trade, infrastructure, and energy foundations of its economic and global leadership. Mark applies experiences as a first-generation college graduate, corporate executive, presidentially appointed member of the Advisory Committee for Trade Policy and Negotiations, founder of the Economic Club of Minnesota and author of an Ivy League published book. He has engaged wide cross-sections of society in over 45 countries, including refugee camps, war zones, 50 military bases and three aircraft carriers at sea.
Read More
---
Wahba Institute for Strategic Competition
The Wahba Institute for Strategic Competition works to shape conversations and inspire meaningful action to strengthen technology, trade, infrastructure, and energy as part of American economic and global leadership that benefits the nation and the world. Read more