Reimagining Development Finance for a 21st Century Africa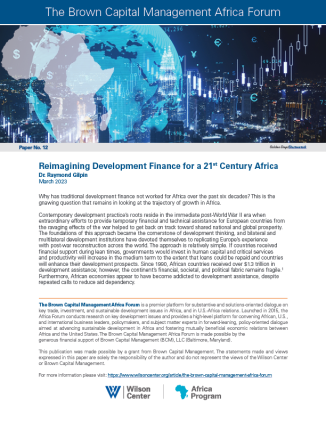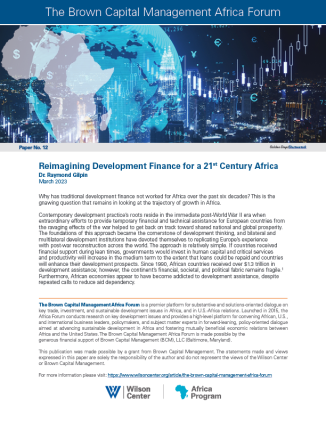 Why has traditional development finance not worked for Africa over the past six decades? This is the gnawing question that remains in looking at the trajectory of growth in Africa.
It is clear that business as usual will not deliver meaningful economic development in Africa. Development partners, like the United States, must rethink their approach to development assistance in Africa. Just as in the immediate World War II era, African countries need some financial and technical assistance to become more competitive in global markets, more resilient to shocks, and less likely to remain ensnared in a self-perpetuating cycle of poverty. Framing and delivering requisite assistance has eluded the continent in recent decades, and aid-based support struggles to keep pace with Africa's growing and emerging needs.
This publication makes a case for a fundamental rethink of development practice as it relates to Africa, analyzes the different approaches to development financing that will deliver development outcomes, and explains the role Africa's development partners could play in ensuring the long-overdue shift from perennial dependency to sustainable economic development that delivers shared prosperity, institutionalizes resilience, and protects the planet.
This paper is part of the U.S.-Africa Leaders Summit series. The full series is available to read here. 
---
The Brown Capital Management Africa Forum is a premier platform for substantive and solutions-oriented dialogue on key trade, investment, and sustainable development issues in Africa, and in U.S.-Africa relations. Launched in 2015, the Africa Forum conducts research on key development issues and provides a high-level platform for convening Africa, U.S., and international business leaders, policymakers and subject matter experts in forward-leaning policy-oriented dialogue aimed at advancing sustainable development in Africa and fostering mutually beneficial economic relations between Africa and the United States. The Brown Capital Management Africa Forum is made possible by the generous financial support of Brown Capital Management, LLC (Baltimore, Maryland).
About the Author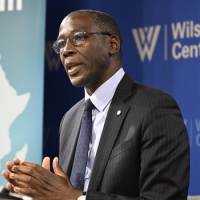 Raymond Gilpin
Chief Economist, Regional Bureau for Africa, United Nations Development Programme, New York
Read More
---
Africa Program
The Africa Program works to address the most critical issues facing Africa and U.S.-Africa relations, build mutually beneficial U.S.-Africa relations, and enhance knowledge and understanding about Africa in the United States. The Program achieves its mission through in-depth research and analyses, including our Africa Up Close blog, public discussion, working groups, and briefings that bring together policymakers, practitioners, and subject matter experts to analyze and offer practical options for tackling key challenges in Africa and in U.S.-Africa relations.   Read more