Accelerating Africa's Digital Transformation for Mutual African and U.S. Economic Prosperity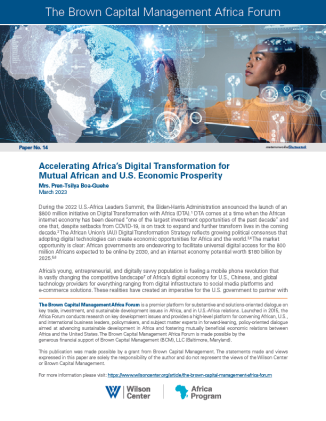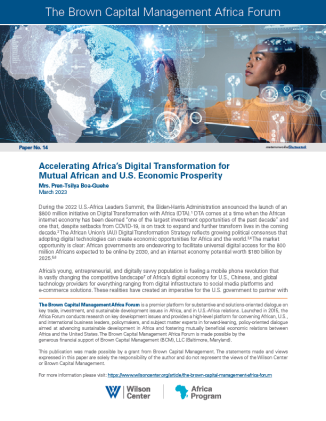 During the 2022 U.S.-Africa Leaders Summit, the Biden-Harris Administration announced the launch of an $800 million initiative on Digital Transformation with Africa (DTA). DTA comes at a time when the African internet economy has been deemed "one of the largest investment opportunities of the past decade" and one that, despite setbacks from COVID-19, is on track to expand and further transform lives in the coming decade. The African Union's (AU) Digital Transformation Strategy reflects growing political consensus that adopting digital technologies can create economic opportunities for Africa and the world. The market opportunity is clear: African governments are endeavoring to facilitate universal digital access for the 800 million Africans expected to be online by 2030, and an internet economy potential worth $180 billion by 2025.
Africa's young, entrepreneurial, and digitally savvy population is fueling a mobile phone revolution that is vastly changing the competitive landscape of Africa's digital economy for U.S., Chinese, and global technology providers for everything ranging from digital infrastructure to social media platforms and e-commerce solutions. These realities have created an imperative for the U.S. government to partner with the private sector to implement a robust digital foreign policy agenda for Africa that can keep up with the pace of this rapidly evolving market and maintain U.S. competitive advantage.
This publication provides concrete policy recommendations for how DTA's three pillars (Digital Economy and Infrastructure, Human Capital Development, and Digital Enabling Environment) can be implemented by focusing on the opportunities in Africa's startup ecosystem. The paper also highlights U.S. public private partnership opportunities in infrastructure, talent, and regulatory frameworks. 
This paper is part of the U.S.-Africa Leaders Summit series. The full series is available to read here. 
---
The Brown Capital Management Africa Forum is a premier platform for substantive and solutions-oriented dialogue on key trade, investment, and sustainable development issues in Africa, and in U.S.-Africa relations. Launched in 2015, the Africa Forum conducts research on key development issues and provides a high-level platform for convening Africa, U.S., and international business leaders, policymakers and subject matter experts in forward-leaning policy-oriented dialogue aimed at advancing sustainable development in Africa and fostering mutually beneficial economic relations between Africa and the United States. The Brown Capital Management Africa Forum is made possible by the generous financial support of Brown Capital Management, LLC (Baltimore, Maryland).
About the Author
---
Africa Program
The Africa Program works to address the most critical issues facing Africa and U.S.-Africa relations, build mutually beneficial U.S.-Africa relations, and enhance knowledge and understanding about Africa in the United States. The Program achieves its mission through in-depth research and analyses, including our Africa Up Close blog, public discussion, working groups, and briefings that bring together policymakers, practitioners, and subject matter experts to analyze and offer practical options for tackling key challenges in Africa and in U.S.-Africa relations.   Read more