Writing Radicalism in Reform-era Russia | A Conversation with Title VIII Research Scholar Helen Stuhr-Rommereim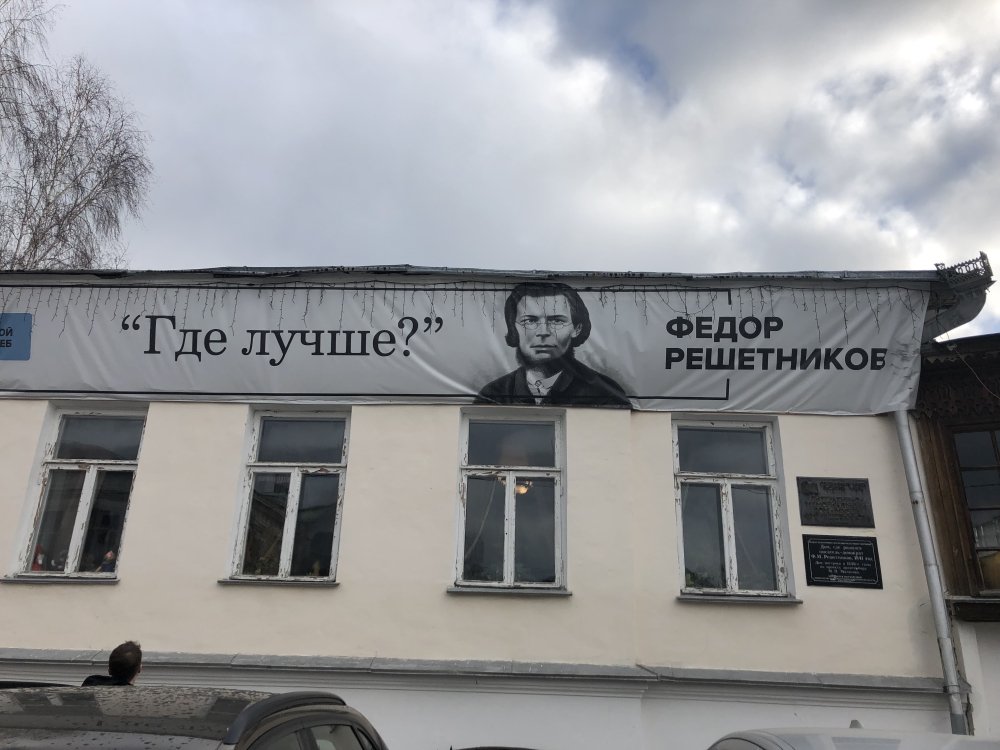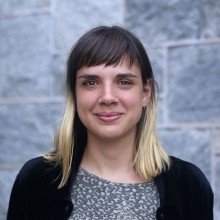 Q: Describe your background and what brought you to the Wilson Center.
I'm a literature scholar, and I specialize in nineteenth-century Russian literature and cultural history. I finished my PhD in Comparative Literature at the University of Pennsylvania in 2021, and have since been teaching at Swarthmore College. I applied to the Kennan Institute at the Wilson Center in search of structure, time, and resources to help me complete my book project. The interdisciplinary scholarly community and access to the Library of Congress collection were big draws for me.
Q: What project are you working on at the Center?
I'm working on my book-in-progress, which is about the first cohort of writers from non-noble backgrounds and their contributions to Russian literature. These writers all began their careers in the 1860s, in the "Era of the Great Reforms" in Imperial Russia. They include Nikolai Uspensky, Fedor Reshetnikov, Nikolai Pomialovsky, Alexander Levitov, and a few others. Three of those four were sons of priests (Reshetnikov was orphaned young and raised by his uncle, who was a postman), and they all represent a newly emerging class of increasingly educated, non-noble, not wealthy people who were joining intellectual life in Russia for the first time. They brought a new perspective into Russian literature. Famous authors like Lev Tolstoy or Ivan Turgenev knew peasants who worked on the land they owned (for instance, the famous scene in Tolstoy's Anna Karenina when Konstantin Levin takes an afternoon to mow with his peasants) but they didn't know what life was like among the peasants, and they certainly didn't know what life was like among the swiftly growing masses of peasants who were becoming industrial workers. Reshetnikov, Uspensky, and Pomialovsky had a different kind of familiarity with these worlds, though they weren't themselves peasants. My book looks at how these writers went about representing spheres of life that had never shown up in literature before, and also at the different ways they dealt with occupying the very particular role they were expected to fulfil in the literary sphere—that is, the role of mediator between disparate social classes. I look at both the social and artistic significance of their work.
I applied to the Kennan Institute with the book title Writing Radicalism: Representation as Politics and Fiction in Reform-Era Russia, but I'm working on a new title. It may be: The Newborn Gravediggers of the Old Aesthetic: Representing the Lower Classes in Imperial Russian Literature, which I think is more descriptive. The "newborn gravediggers" line comes from an essay by the avant-garde critic Nikolai Chuzhak from 1928, in which he describes a "fracture at the root" of the Russian literary tradition that he says was created by the writers I focus on. Much of my book is written, so I'll have to finally settle on a title by the end of my time here. 
Q: How did you become interested in your current research topic?
This project started with Nikolai Chernyshevsky, who is an important thinker in the history of socialism in Russia. He was active in the 1850s and early 1860s until he was arrested in 1862 and sentenced to "civil execution," i.e. the "execution" of his public persona, and eventually sent into exile. He was my age then, in his mid-30s, and he spent the rest of his life in exile, unable to publish any writing. While he was in prison, though, before he was exiled, he managed to write and publish the novel What Is to Be Done?, which was a hugely influential and popular utopian love story. It models alternative modes of social organization and contains a revolutionary message. The novel was beloved by many readers, including some who eventually became Bolshevik revolutionaries. I initially got very interested in Chernyshevsky and this novel and the extraordinary power that literature apparently had in the 1860s in Russia. But Chernyshevsky isn't popular among literary scholars—or at least for a long time he wasn't, maybe this is changing—and many of his famous contemporaries, like Turgenev and Dostoevsky, disagreed with him and found him generally distasteful. His status as a kind of forefather of the Bolsheviks shaped his reception during the Cold War on both sides, and that legacy is still with us. So, I wanted to know who Chernyshevsky's friends were. That's how I found my way to the writers I'm working on. I was immediately fascinated and inspired by their writing and their lives. They seemed to model a different mode of authorship than that of  Tolstoy or Dostoevsky, which was not about individual genius, but collective literary labor towards a social end. Their work was published as a part of the literary culture that developed at the journal where Chernyshevsky was a critic and editor. They came from similar backgrounds to him, and largely shared his politics. But their stories and novels look very different from What Is to Be Done?—they wrote about peasants and workers, while What Is to Be Done? is romantic and utopian. My project became to understand this literary movement that emerged around Chernyshevsky on its own terms.
Q: Why do you believe that your research matters to a wider audience?
Pomialovsky, Reshetnikov, Uspensky, and Levitov confronted challenges that still face writers and artists today, all over the world. I write in my book about how these writers developed a shared backstory, a kind of common mythology, that explained how they became writers and underlined the significance of their specific literary perspective. By writing stories about people like themselves, they essentially wrote themselves into literary culture and articulated a role for themselves in that culture. This was a culture that was, in many corners, hostile to them. They did not have refined manners, they did not have the kind of education that people like Tolstoy and Turgenev had, they didn't speak French, etc. Uspensky went to medical school but dropped out, Reshetnikov didn't go to any kind of university and taught himself to read by copying the addresses on mail that he'd steal from his postman uncle. They developed their work and literary knowledge by reading the periodical press and writing about what they observed in the world, on the street, etc. Contemporary critics wrote about the perceived authenticity of their work, but also undermined their authority and creativity—they suggested they couldn't really be crafting their work because they were too naïve. In my book, I show how these writers were making artistic choices and were navigating certain expectations on the part their audience based on the writers' backgrounds. These writers from the 1860s were dealing with issues like who has the authority to write stories about various class and ethnic communities, or the ways that writers and artists from marginalized groups are under pressure to represent themselves in particular ways—problems and questions that have not gone away.
The story of these writers is also a story about a situation in which literature was endowed with a great deal of political significance because of the limits on civil society and political participation that existed in the Russian Empire. So these works help us think about what social and political tasks can be asked of literature—and what social and political functions are really beyondliterature's capacities. They are also part of the long history of creative responses to political repression and censorship in Russia.
Q: What is the most challenging aspect of your research?
The writers I work on didn't leave behind extensive archives because they were poor and, in most cases, no one was collecting and saving their papers. They wrote only in limited ways about their work, their process, and their ideas about literature. This means that I often can't compare my observations and ideas about the meaning of certain aspects of their works with the authors' stated intentions. I have to see what I can find in the texts themselves, in the critical responses to them, and in what we know about their lives. This is a big responsibility.  
Q: What do you hope the impact of your research will be?
I hope that the writers I work on will become more well known, and that their contributions to Russian literature will be more appreciated. I think it's important not to let these writers disappear into obscurity. They wrote fascinating novels and stories—like Where Is It Better?, Reshetnikov's epic narrative of migration and urban labor, or Molotov, Pomialovsky's comic and sweet tale of love in the bureaucratic milieu. I would like for these works to eventually be available in English so I can teach them in my courses (a project for me after tenure, unless someone else does it first, which would be great…). They also navigated class and national identity in their work in ways that complicate our picture of these phenomena. For instance, Reshetnikov came from the Urals and was often written about by critics in Orientalizing terms, although as far as I know he was ethnically Russian. His most famous literary work, Podlipovtsy, depicts the plight of a small group of people from an indigenous ethnic group in his home region, the Komi (or Permiaks, as they're called in the story), a group he was familiar with, though he didn't belong to it. One project I'm working on now is looking at how essays Reshetnikov wrote about Jewish communities in the Pale of Settlement while he was living there later in his life show him trying to write about an "other" as an outsider, rather than from a point of familiarity, and finding it incredibly difficult. They raise all kinds of questions about the relationship between fiction and ethnography, and how the detached, authoritative ethnographic observer's perspective is constructed and accessed.
I think incorporating perspectives like Reshetnikov's into our view of nineteenth-century Russian culture helps break apart the familiar narrative of Russian literature and history. Like everyone who works on Russia today, I am thinking all the time about Russia's war on Ukraine. Russian history is an imperial history, the history of centuries of subjugation of other nations and peoples. It's fair to say that the familiar narrative attached to nineteenth-century Russian literature in particular—of the extraordinary "greatness" of the Russian literary tradition, dominated by a few great writers, many of whom were preoccupied with describing and articulating a great Russian identity—has been mobilized to serve belligerent ends. I hope my project will offer some other stories to tell.    
The opinions expressed in this article are those solely of the author and do not reflect the views of the Kennan Institute.
About the Author
---
Kennan Institute
The Kennan Institute is the premier U.S. center for advanced research on Russia and Eurasia and the oldest and largest regional program at the Woodrow Wilson International Center for Scholars. The Kennan Institute is committed to improving American understanding of Russia, Ukraine, Central Asia, the Caucasus, and the surrounding region though research and exchange. Read more